Stories from Our Foster Families
---
Trinity
…formerly known as Ellie, formerly known as Darla — A foster's story
The journey began in September 2014. My husband and I had just made the difficult decision to put down our 1-1/2 year old puppy due to an auto-immune disease she was diagnosed with a week before. Our family was devastated, and the house was quiet.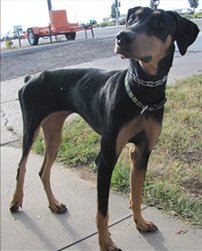 We had fostered for Doberman Rescue of New Mexico before, so I decided to go on their website to see if they had any needs. I came across a story about an 8 month old who had fallen out of a truck bed, broken her leg, and was surrendered to the Rescue. In learning about her story, we knew we had to open our home to her.
We picked her up from Albuquerque, and so began the most challenging yet rewarding fostering experience we've ever had. We called her Ellie. She was a sweet, social girl that loved to play, be with her family, and welcome music students into the home.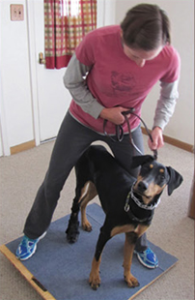 Although her leg had healed, she was now dealing with sciatic nerve damage. Her paw knuckled over when she walked and had open wounds from where she had chewed on it. Our goal for the next two months was to see if the nerve would heal, returning the paw to its correct position. Ellie's daily care included physical therapy exercises, three 15-minute walks utilizing a therapy boot, 10-minute foot soaks, creating a makeshift boot using hygiene pads and duck tape, and playing toy and training games. Most hours of the day were spent in a crate, only being let out to snuggle on the doggie bed when calm enough. She attended physical therapy once a week to walk on a water treadmill and learn new exercises.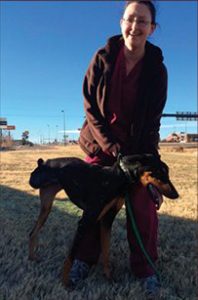 In November, the decision was made to amputate because she was developing new wounds, and there were no signs of the nerve healing. It was the best decision the Rescue could have made. She's now a happy, healthy dog at her forever home. You could say that we helped Ellie heal, but in the end, I believe she healed us.