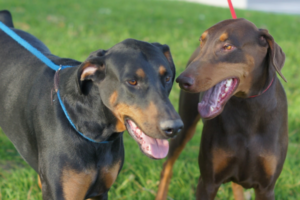 Many of our Dobermans come from animal shelters. They are picked up as strays and available to rescue when not reclaimed by their owners. Most are healthy, but some are not and need our help to reach their potential. There are times when owners contact us when they can no longer keep their dogs and transfer ownership to DRNM.
All Dobermans that come through our organization are neutered or spayed, microchipped, rabies and distemper/parvo vaccinated, and tested for heartworm. To the best of our ability, we assess temperament: Is the dog good with children, men, women, other dogs and cats? Is the dog housebroken, content to be alone, or in need of a companion dog? Has the dog undergone physical or mental trauma?
We do the best we can to understand as much as we can prior to releasing a dog to a new owner. If a dog seems good to go and an adoption occurs, we stay in touch to make sure the new family member settles in well, as rescue dogs often come with baggage that is not always obvious. There are no 100% guarantees.
If you see a dog you'd like to adopt…
1. Fill out our Adoption Application, either online or on paper (click Forms)
2. We will try to contact you by email or phone within 2 or 3 days of receipt to talk more about you and the dog and set up a time for a…
• Home visit
• Meet & Greet the adoptable dog and introduce to any resident animals and family
• Transfer ownership and custody with a contract and adoption fee, generally
Puppies (under 6 months): $350
Adults: $300
Seniors: $150
All adoptions are provisional and the adoption check will be held for 2 weeks and deposited after everyone is settled. DRNM will stay in touch through the first 2 to 4 weeks or more to make sure the Doberman is adjusting to the home and the family to the Doberman.
This is the general process, although, depending on the circumstances, sometimes it is possible that the Home Visit, Meet & Greet and Adoption can happen all at the same time. If we see any potential problems through any of this process that may prevent approval for adoption, we will be honest about why we feel you are inappropriate for the particular dog. We stand behind our adoptions.