A Memorial to Our Rainbow Bridge Companions
---
Lucy's Happy Tail! December 7, 2015
In the winter of 2010, Guy saw Lucy on the DRNM website and said, "Mom, look at this baby." She was a beautiful red girl with cropped ears and docked tail. The person fostering her was Boni Galarneau, so we contacted her and said we were interested in this older girl whose previous owner, Gail, had surrendered her to DRNM when she was placed in hospice. Boni explained that she had been taking Lucy to visit Gail in the hospice facility every weekend and felt that was important for both of them. We met Lucy, Boni, and Jo that Saturday during a visit to Gail and offered to do the same visit each weekend. Lucy came home soon after that to meet her new family. Boni gave us a beautiful sweater for Lucy as she was considered an older girl at age 10 ½ years and quite sensitive to the cold. Lucy wore that sweater each winter.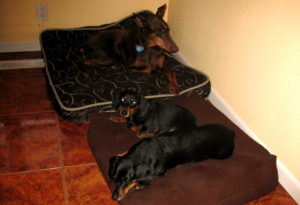 Our weekend visits with Gail continued…it was amazing to see how Lucy would prance and smile each time we visited the Hospice center. She knew she would see Gail and was happy to let other folks pet her and give her loves. Gail always had a "treat" for her when we got to her room. Gail realized that Lucy was quite contented with her new family of K-9s, Guy and me. Lucy fit in well with our family of girls — three Dachshunds and one other female Dobie. While Lucy was not the "rough housing" type as an only girl for so many years, she had lots of toys and loved to play, and play she did!! At Gail's request the visits came less frequently as it began to take a toll on her.
In the beginning, it was believed that Lucy would not last too much longer as she and her first Mom were very close. Gail passed away in the early summer.
As our life with Lucy continued, she taught us about her boundaries and personal space rules she needed for a harmonious environment — all the canines learned more quickly than the humans. We respected her need and grew to love her deeply. She could smile and light up the room or snarl and let you know the space wasn't right. One of our Doxies grew very close to Lucy and always made sure she was OK and that her toys were cleaned and ready for play.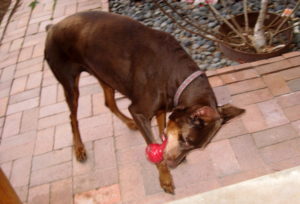 As most of us know, Dobies are big dogs and as such do not get to be 14, 15 or 16…Lucy lived to be 15 years and 7 months old. We are very thankful for Terri Wheeler and the staff at Blue Cross Animal Clinic for helping us work through all issues with Lucy, health, personal space etc…
We gave Lucy a loving home and enjoyed the wonderful four and a half years with her, she returned the love as we took care of her and loved her unconditionally. She came to us as an aloof only child and blossomed with a family. She crossed the Rainbow Bridge this morning (12/7) and saved the best for last; she dropped the boundary rules and was loving and affectionate as she said good-bye to each of us. Her Dad was her favorite as he loved her and their special bond that will not be forgotten.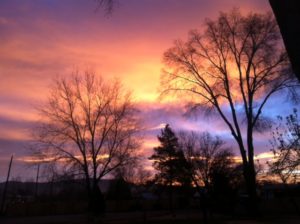 On Tuesday, December 8th there was a gorgeous red sunrise, one of the most beautiful sunrises ever. This seemed to be a message from Lucy saying she made it across the Rainbow Bridge and was safe and happy.
Good-bye sweet red-haired girl! We will miss you Lucy Goose!
Love,
Mom, Dad, Edie, Frankie, Lillee & Jack
P.S. Please remember, these older babies can bring a great deal of love and happiness to your home, so remember it is well worth adopting them.