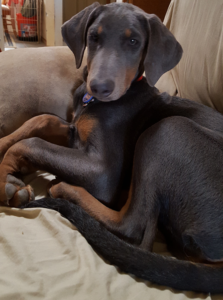 Doberman Rescue of New Mexico always has the need for additional foster homes. We cover most of the state of New Mexico, parts of west Texas, Colorado and Arizona — we receive Dobermans from many sources, including kill shelters. Foster homes are needed to care for rescued Dobermans until new adoptive homes can be found.
Foster care can last for as little as one to two weeks or can extend for many months. Fosters provide food and shelter, TLC, housebreaking and training if needed, and some assessment of temperament. All medical costs are covered by DRNM.
All of this helps us prepare the foster Doberman for a new, permanent home. Foster homes are not required to do home visits or meet prospective adopters — only to care for the dog, the heart of rescue. Without foster homes, we can't meet our mission.
Please contact us if you would like more information on fostering or to volunteer to help with local and highway Doberman transportation.